Self-Managed Superannuation Fund Account Structure
A self managed superannuation fund or SMSF is a private superannuation fund, regulated by the Australian Taxation Office, that can be owned and managed by up to four members.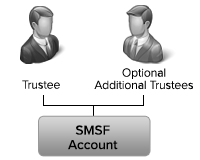 Account Information
Accounts are only available to Australian customers whom are carrying out the role of trustee or director of a Self Managed Superannuation Fund ("SMSF"). Given the nature of SMSF's we require the following from customers:
Good or extensive product knowledge for any product you wish to trade.
You must have executed at least 100 trades for any product type, or 100 simulated trades in our real-time demo.
Must be 18 years or over to open an account.
Our SMSF account is designed to enable compliance with the applicable regulations governing superannuation funds in Australia. For example, our SMSF account enables the trustee or director of the SMSF to generate customized account statements in order to assist with the record keeping and annual audit requirements applying to SMSF's under the law.
Please note that monthly activity and other minimum fees may apply.