Trust Account Structure
Legally established entity in Australia in which assets are held by one or more trustees for the benefit of one or more beneficiaries. There are a number of different types of trust in Australia, including fixed trusts, unit trusts, discretionary trusts, bare trusts, hybrid trusts, testamentary trusts and charitable trusts, amongst others. While some types of trusts are used in many commercial arrangements, for example, unit trusts are commonly used to facilitate managed investment schemes, the IBAU trust account is not suitable for financial advisers, introducing brokers, managed investment schemes or hedge funds etc. IBAU has developed separate, tailored account types for accountholders operating financial services business of this nature as such.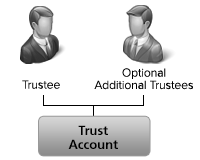 Account Information
Accounts are geared towards professional/active traders and investors; therefore we require the following from customers:
Good or extensive product knowledge for any product you wish to trade.
You must have executed at least 100 trades for any product type, or 100 simulated trades in our real-time demo.
Must be 18 years or over to open an account.
Please note that monthly activity and other minimum fees may apply.